Use your Future Cruise Credit for Sailings up to April 2023. Book Cruises Online 24/7.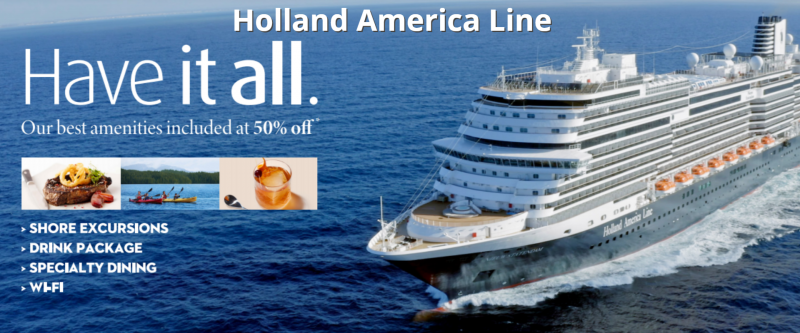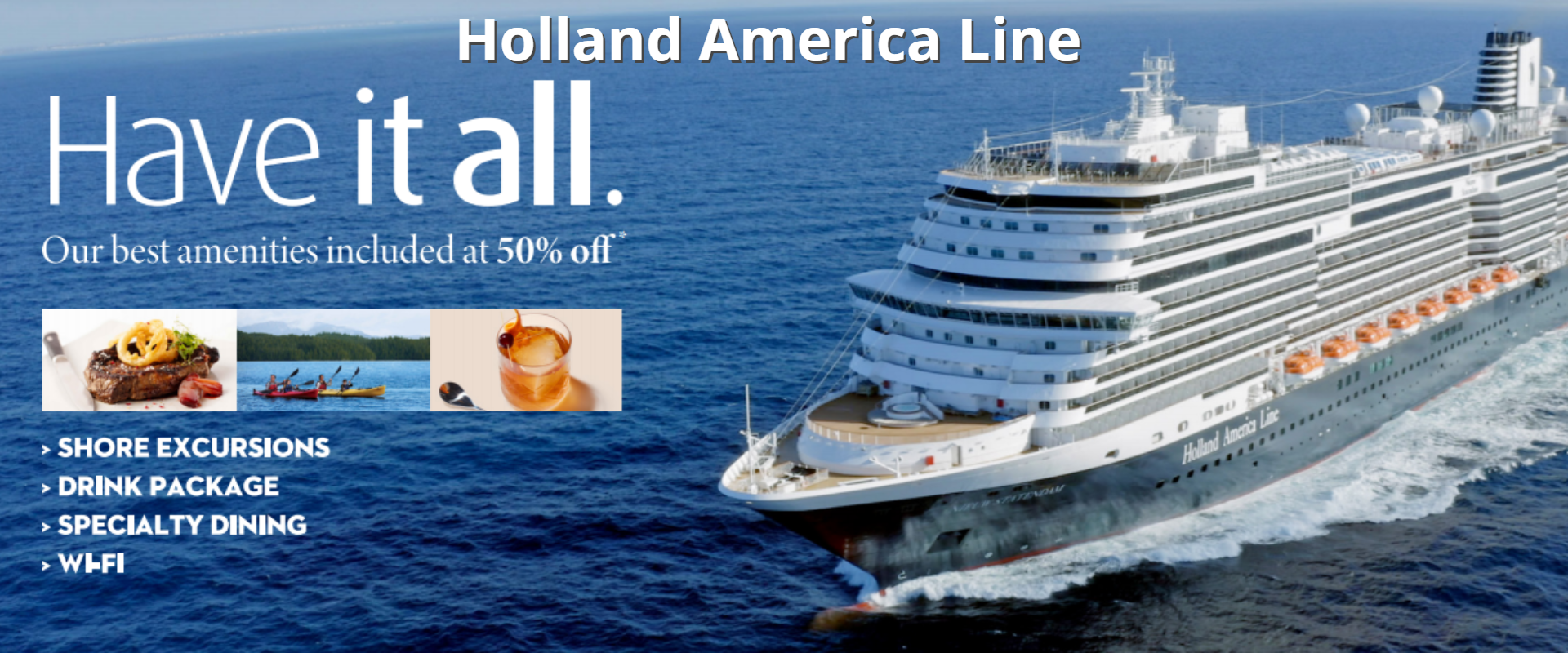 On Sale until 30 June 2021. Not Valid with Short Sales or Last Minute Fares
Terms & Conditions
Full T&CS
*The Have it All ("HIA") offer (and its parts) are not transferable or refundable, have no cash value, are not valid on Grand Voyages or 1-5 day cruise voyages, and are subject to availability. Have it All ("HIA") amenities are available for new bookings only, apply only to the cruise portion of Alaska Land+Sea Journeys, are not combinable with any other discounts, and are only applicable on select 2021-2023 departures, Any advertised offer may
be changed or revoked at any time. Offer is subject to full terms and conditions, available at HollandAmerica.com/package-terms. Signature Beverage Package has a daily limit of 15 beverages. Only available on beverages priced at US$11.00 or less. Must be 21+ for alcoholic beverages. Management reserves right to revoke the package and may refuse service for any reason. Package excludes beverages purchased in Signature
Shops, Mini Bar, In-Room Dining, or on Half Moon Cay. Specialty dining based on cruise duration and ship type. Dining options determined by ship and excludes all events in Pinnacle Grill. Shore excursion offer is based on cruise duration: for 6–9-day voyages, guests can choose 1 shore excursion (up to $100 USD value) or apply $100 off any one tour; for 10–20-day voyages, guests can choose 2 shore excursions (up to $100 value per tour)
or apply $100 off each of any 2 tours; for 21+ day voyages, guests can choose 3 shore excursions (up to $100 value per tour) or apply $100 off each of any 3 tours. If excursion chosen has a value of less than $100, guest will not receive a credit of remaining value. Shore excursion must be used on corresponding cruise. Wi-Fi Surf Package: All onboard Internet usage is subject to HAL's standard policies, which may limit or block browsing/use of
some sites or applications due to network security and bandwidth usage. Offerings are subject to change without notice. Plan can be used on any device but only one device can be actively connected at a time. Upgrades are available once. Offer applies to guests 1 & 2 only in a stateroom. To be read in conjunction with the Holland America Line Passage contract www.hollandamerica.com which guests will be bound by. Whilst all information
is correct at time of publication, offers are subject to change or withdrawal. Carnival plc trading as Carnival Australia ABN 23 107 998 443 as agent for Holland America Line. Ships' Registry: The Netherlands. We are staying atop health and safety protocols in our continuing effort to minimize the risk of exposure to COVID-19, which may impact our voyages and offerings, including amenities and itineraries. All voyages that call in a U.S. port are
subject to CDC Cruise Travel Advice which is available at https://wwwnc.cdc.gov/travel/notices/covid-4/coronavirus-cruise-ship.