Exclusive & Discounted  Fly, Cruise & Stay Packages
At Just Cruises, we offer you more than wonderful cruises to dream destinations. As a full-service travel agency, we can make sure that your holiday experience is completely hassle-free from beginning to end, no matter where your cruise departs from.  With a Just Cruises Fly & Cruise Package, we will take care of all of your travel arrangements – from flights, hotel accommodation, land tours, transfers and travel insurance. Your complete cruise package will leave you free to relax and enjoy every aspect of your holiday.
We work closely with Cruise Lines, Hotel and Airlines to bring you exclusive packages that cannot be booked directly or separately. Our packages will save you $$$ and we do all the hard work for you. Check out our latest fly & cruise deals below, or if you can't find what you're looking for, contact one of our Cruising Specialists on 1800 284 112 for a tailor made fly & cruise holiday!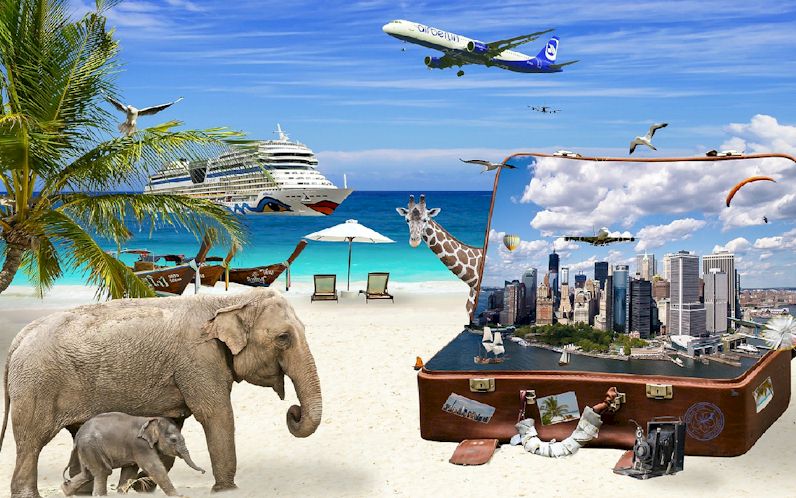 Our Exclusive Fly, Cruise & Stay Deals Calendar
| | Date | From | To | Nights | Destination | Cruise Line | Ship | from Twin Per Person | Ave PP Per Night | | View Details |
| --- | --- | --- | --- | --- | --- | --- | --- | --- | --- | --- | --- |
| | 04/10/2018 | Sydney | Sydney | 8 | Asia | Royal Caribbean | Voyager of the Seas | $2,069 | $259 | | View Details |
| | 27/10/2018 | Sydney | Sydney | 33 | Asia | Holland America | ms Westerdam | $5,059 | $153 | | View Details |
| | 27/10/2018 | Sydney | Sydney | 18 | Asia | Holland America | ms Westerdam | $3,029 | $168 | | View Details |
| | 01/11/2018 | Sydney | Sydney | 26 | Asia | Holland America | ms Amsterdam | $5,799 | $223 | | View Details |
| | 08/11/2018 | Sydney | Sydney | 14 | New Zealand | Celebrity Cruises | Celebrity Solstice | $2,779 | $199 | | View Details |
| | 08/11/2018 | Sydney | Sydney | 9 | Hawaii | Norwegian | Pride of America | $4,039 | $449 | | View Details |
| | 08/11/2018 | Sydney | Sydney | 8 | Asia | Royal Caribbean | Voyager of the Seas | $1,849 | $231 | | View Details |
| | 09/11/2018 | Sydney | Sydney | 22 | Asia | Norwegian | Norwegian Jewel | $4,599 | $209 | | View Details |
| | 10/11/2018 | Sydney | Sydney | 19 | Asia | Holland America | ms Westerdam | $3,459 | $182 | | View Details |
| | 18/11/2018 | Sydney | Sydney | 14 | New Zealand | Celebrity Cruises | Celebrity Solstice | $2,099 | $150 | | View Details |
| | 25/11/2018 | Sydney | Sydney | 17 | Asia | Holland America | ms Westerdam | $3,579 | $211 | | View Details |
| | 27/11/2018 | Sydney | Sydney | 28 | Hawaii & USA | Holland America | ms Amsterdam | $8,049 | $287 | | View Details |
| | 29/11/2018 | Sydney | Sydney | 12 | New Zealand | Royal Caribbean | Radiance of the Seas | $1,699 | $142 | | View Details |
| | 02/12/2018 | Sydney | Sydney | 13 | New Zealand | Celebrity Cruises | Celebrity Solstice | $2,899 | $223 | | View Details |
| | 05/12/2018 | Sydney | Sydney | 20 | South America | Celebrity Cruises | Celebrity Eclipse | $4,699 | $235 | | View Details |
| | 06/12/2018 | Sydney | Sydney | 19 | Asia | Celebrity Cruises | Celebrity Millenium | $3,535 | $186 | | View Details |
| | 07/12/2018 | Sydney | Sydney | 13 | Asia | Holland America | ms Westerdam | $2,899 | $223 | | View Details |
| | 11/12/2018 | Sydney | Sydney | 12 | New Zealand | Celebrity Cruises | Celebrity Solstice | $2,299 | $192 | | View Details |
| | 12/12/2018 | Sydney | Sydney | 10 | Asia | Windstar | Star Legend | $4,139 | $414 | | View Details |
| | 13/12/2018 | Sydney | Sydney | 7 | Asia | Royal Caribbean | Voyager of the Seas | $2,019 | $288 | | View Details |
| | 20/12/2018 | Sydney | Sydney | 19 | Asia | Celebrity Cruises | Celebrity Millenium | $4,099 | $216 | | View Details |
| | 27/12/2018 | Sydney | Sydney | 9 | Hawaii | Norwegian | Pride of America | $6,169 | $685 | | View Details |
| | 30/12/2018 | Sydney | Sydney | 18 | Asia | Holland America | ms Westerdam | $3,659 | $203 | | View Details |
| | 30/12/2018 | Sydney | Sydney | 8 | Asia | Royal Caribbean | Voyager of the Seas | $2,389 | $299 | | View Details |
| | 03/01/2019 | Sydney | Sydney | 9 | Hawaii | Norwegian | Pride of America | $5,119 | $569 | | View Details |
| | 04/01/2019 | Sydney | Sydney | 15 | New Zealand | Celebrity Cruises | Celebrity Solstice | $3,399 | $227 | | View Details |
| | 04/01/2019 | Sydney | Sydney | 10 | Asia | Royal Caribbean | Voyager of the Seas | $3,049 | $305 | | View Details |
| | 06/01/2019 | Sydney | Sydney | 14 | Asia | Princess Cruises | Diamond Princess | $3,599 | $257 | | View Details |
| | 10/01/2019 | Sydney | Sydney | 9 | Hawaii | Norwegian | Pride of America | $4,759 | $529 | | View Details |
| | 14/01/2019 | Sydney | Sydney | 12 | New Zealand | Royal Caribbean | Radiance of the Seas | $1,799 | $150 | | View Details |
| | 15/01/2019 | Sydney | Sydney | 16 | New Zealand | Celebrity Cruises | Celebrity Solstice | $2,199 | $137 | | View Details |
| | 15/01/2019 | Sydney | Sydney | 20 | Asia | Holland America | ms Westerdam | $4,569 | $228 | | View Details |
| | 22/01/2019 | Sydney | Sydney | 12 | New Zealand | Royal Caribbean | Radiance of the Seas | $1,669 | $139 | | View Details |
| | 24/01/2019 | Sydney | Sydney | 9 | Asia | Royal Caribbean | Voyager of the Seas | $1,839 | $204 | | View Details |
| | 29/01/2019 | Sydney | Sydney | 8 | Asia | Royal Caribbean | Voyager of the Seas | $1,829 | $229 | | View Details |
| | 31/01/2019 | Sydney | Sydney | 14 | New Zealand | Celebrity Cruises | Celebrity Solstice | $2,425 | $173 | | View Details |
| | 31/01/2019 | Sydney | Sydney | 19 | Asia | Holland America | ms Westerdam | $3,529 | $186 | | View Details |
| | 03/02/2019 | Sydney | Sydney | 12 | New Zealand | Royal Caribbean | Radiance of the Seas | $1,799 | $150 | | View Details |
| | 03/02/2019 | Sydney | Sydney | 8 | Asia | Royal Caribbean | Voyager of the Seas | $1,859 | $232 | | View Details |
| | 07/02/2019 | Sydney | Sydney | 12 | Asia | Celebrity Cruises | Celebrity Millenium | $3,199 | $267 | | View Details |
| | 10/02/2019 | Sydney | Sydney | 20 | New Zealand | Celebrity Cruises | Celebrity Solstice | $2,839 | $142 | | View Details |
| | 11/02/2019 | Sydney | Sydney | 12 | New Zealand | Royal Caribbean | Radiance of the Seas | $2,019 | $168 | | View Details |
| | 14/02/2019 | Sydney | Sydney | 9 | Hawaii | Norwegian | Pride of America | $4,229 | $470 | | View Details |
| | 14/02/2019 | Sydney | Sydney | 8 | Asia | Royal Caribbean | Voyager of the Seas | $1,675 | $209 | | View Details |
| | 26/02/2019 | Sydney | Sydney | 20 | New Zealand | Celebrity Cruises | Celebrity Solstice | $2,899 | $145 | | View Details |
| | 04/03/2019 | Sydney | Sydney | 24 | Asia | Holland America | ms Maasdam | $4,529 | $189 | | View Details |
| | 05/03/2019 | Sydney | Sydney | 21 | Asia | Princess Cruises | Sun Princess | $3,099 | $148 | | View Details |
| | 14/03/2019 | Sydney | Sydney | 9 | Hawaii | Norwegian | Pride of America | $4,139 | $460 | | View Details |
| | 28/03/2019 | Brisbane | Brisbane | 44 | Brisbane to San Francisco | Holland America | ms Maasdam | $9,049 | $206 | | View Details |
| | 28/03/2019 | Sydney | Sydney | 19 | New Zealand & Pacific | Holland America | ms Maasdam | $3,639 | $192 | | View Details |
| | 29/03/2019 | Sydney | Sydney | 18 | Asia | Royal Caribbean | Explorer of the Seas | $3,669 | $204 | | View Details |
| | 07/04/2019 | Sydney | Sydney | 32 | Hawaii | Holland America | ms Noordam | $6,285 | $196 | | View Details |
| | 11/04/2019 | Sydney | Sydney | 9 | Hawaii | Norwegian | Pride of America | $4,625 | $514 | | View Details |
| | 12/04/2019 | Sydney | Sydney | 23 | Hawaii | Celebrity Cruises | Celebrity Solstice | $4,379 | $190 | | View Details |
| | 17/04/2019 | Sydney | Sydney | 18 | Hawaii | Royal Caribbean | Ovation of the Seas | $4,899 | $272 | | View Details |
| | 18/04/2019 | Sydney | Sydney | 20 | Hawaii | Royal Caribbean | Radiance of the Seas | $3,889 | $194 | | View Details |
| | 18/04/2019 | Sydney | Sydney | 15 | Tahiti | Windstar | Wind Spirit | $6,799 | $453 | | View Details |
| | 21/04/2019 | Sydney | Sydney | 18 | Hawaii | Holland America | ms Noordam | $3,899 | $217 | | View Details |
| | 02/05/2019 | Sydney | Sydney | 13 | Europe | Celebrity Cruises | Celebrity Reflection | $3,939 | $303 | | View Details |
| | 06/05/2019 | Sydney | Sydney | 13 | Europe | Royal Caribbean | Jewel of the Seas | $3,599 | $277 | | View Details |
| | 09/05/2019 | Sydney | Sydney | 9 | Hawaii | Norwegian | Pride of America | $4,295 | $477 | | View Details |
| | 15/05/2019 | Sydney | Sydney | 18 | Europe | Royal Caribbean | Brilliance of the Seas | $4,299 | $239 | | View Details |
| | 17/05/2019 | Sydney | Sydney | 15 | Tahiti | Windstar | Wind Spirit | $8,649 | $577 | | View Details |
| | 18/05/2019 | Sydney | Sydney | 8 | Asia | Royal Caribbean | Spectrum of the Seas | $1,945 | $243 | | View Details |
| | 20/05/2019 | Sydney | Sydney | 11 | Alaska | Celebrity Cruises | Celebrity Millenium | $3,649 | $332 | | View Details |
| | 29/05/2019 | Sydney | Sydney | 13 | Alaska | Celebrity Cruises | Celebrity Eclipse | $3,849 | $296 | | View Details |
| | 10/06/2019 | Sydney | Sydney | 13 | Alaska | Celebrity Cruises | Celebrity Solstice | $3,939 | $303 | | View Details |
| | 13/06/2019 | Sydney | Sydney | 9 | Hawaii | Norwegian | Pride of America | $4,915 | $546 | | View Details |
| | 20/07/2019 | Sydney | Sydney | 9 | Hawaii | Norwegian | Pride of America | $5,535 | $615 | | View Details |
| | 11/10/2019 | Sydney | Sydney | 17 | Japan Rugby World Cup | Silversea Cruises | Silver Muse | $15,980 | $940 | | View Details |